Cross posted from the
Entrevista Blog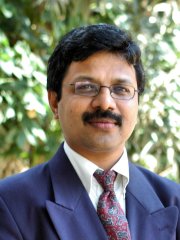 Interview with Ganapathy Subramaniam, Founding-CEO of Bangalore-based semiconductor tech company Cosmic Circuits. (Cosmic was acquired in early 2013 by Silicon Valley-based, Nasdaq-listed electronic design giant Cadence.) The interviewer is fellow entrepreneur Chandu Nair.

The Podcast can be downloaded from here.
(Use Right Click > Save As to save the file to your desktop)
Highlights
Reading the Wind
How Ganapathy, as part of visiting customers in October 2012, realized that Cosmic Circuits could no longer remain an independent company. (Its customers and partners wanted a strong Number 2 player in the segment to provide a balance to the Number 1 player, Synopsis.)
Making the company Due Diligence ready
How Cosmic's decisions to rope in a Big 4 audit firm (just five years into its existence) and go in for an ISO certification, stood it in good stead when it came to due diligence at the time of its acquisition. Ganapathy advises that, once the company grows to a certain size, even as the founders enjoy the fruits of that growth, they would do well to take the time and effort to streamline processes.
Valuing Customer Traction over Venture Capital
Why Cosmic Circuits passed on a term sheet from a Silicon Valley VC within days of starting up.
Importance of separating lines of businesses - even in a startup
"Startups should live and die by its focus on one line of business," says Ganapathy. If one of the business lines is a cash cow, the "negativity" of the failing businesses does not reach the CEO. Specific to Cosmic, in hindsight, the company would have been better off it had separated the fabless semiconductor business from the IP business - something it did as part of the sale of the IP business to Cadence.
Focus on productivity versus putting in long hours
A firm follower of Stephen Covey's "Seven Habits of Highly Effective People," Ganapathy believes leading a balanced life - whether it is ensuring time for family or playing badminton almost everyday - helped ensure his stress levels were in control. (This outlook ensured that Ganapathy's approach to work as the CEO of Cosmic wasn't too different from that at TI.) A 14 hour or more of work just ends up making the founder irritable and leads to costly friction with colleagues, he says.
Attraction of Texas Instruments as a workplace
Apart from the great pay check, the ethical culture, the opportunities to learn from the best in the field and also the freedom to operate independently encouraged Ganapathy to continue with TI - effectively his first and last job as an employee - for a straight 16 years. When he was deputed to work in TI USA, he decided - on his own - that he would be more productive working from home and proceeded to do so for three months. And his supervisor never asked him about his whereabouts!
Impressions Left by Early Education
How his early school education (in the small town of Sivakasi) instilled a spirit of Nationalism - the echoes of which were felt later in his career, including in creating a vision for Cosmic (to build a highly valuable company out of India in the semiconductor technology space).
Man on a Mission
Ganapathy would like to help develop at least ten $100-M+ Semiconductor IP companies out of India over the next 15 years, by working with entrepreneurs, VCs and the government. He is also also making personal investments in startup companies in the sector.
Venture Intelligence is the leading provider of data and analysis on Private Company Financials, Transactions (private equity, venture capital and M&A) & their Valuations in India. Click Here to view our products list including the Free Deal Digest Weekly: India's First & Most Exhaustive Transactions Newsletter.