Q3'15 tally up 125% to $5.9-B; IT & ITES Cos Grab Majority of the pie; Buyout deals make a comeback
With the nine month investment tally touching $13 billion (across 504 transactions), Private Equity investments in India for 2015 are poised to cross the historical highs of 2007 (which had witnessed $14.7 billion being invested across 535 transactions), shows data from Venture Intelligence (http://VIonWeb.com), a research service focused on private company financials, transactions and their valuations. PE firms invested a record $5,893 million (across 177 deals) during the quarter ended September 2015, up 125% over that invested in the same period last year ($2,621 million across 126 transactions) and 38% higher than the immediate previous quarter (which had witnessed $4,272 million being invested across 151 transactions). The nine month PE investment tally for 2015 is 82% more than the $7,131 million across 387 transactions in the first nine months of 2014, the Venture Intelligence data showed. Note: All figures in this note are exclusive of PE investments in Real Estate and strategic investments from players like Alibaba, etc.
There were as many as 16 PE investments worth $100 million or more (with seven over $200-M) during Q3'15 compared to three such transactions in the same period last year and 11 during the immediate previous quarter, the Venture Intelligence analysis showed. Apart from the Internet "Unicorns" of Flipkart, Snapdeal and Ola – which raised $700 million, $500 million $245 million respectively – others large PE investments in Q3'15 included the $500 million investment by TA Associates and India Value Fund in ACT Broadband, Blackstone's $383 million repurchase of BPO firm Intelenet (from UK's Serco) and Bain Capital's $200 million infusion in publicly listed non banking financial services firm L&T Finance.
IT Companies Grab Majority Share of Pie
The mega deals in the Internet sector along with the Blackstone buyout of Intelenet ensured that IT & ITES companies grabbed 57% of the PE investment by value (attracting $3,358 million across 107 deals) during Q3'15. Other Internet companies that attracted $100 million rounds in Q3'15 included music service Saavn.com, furniture e-tailer Pepperfry.com and hotels aggregator Oyo Rooms. Tata Capital meanwhile was reported to have committed a similar amount as part of US-based taxi hailing app firm Uber's latest fund raise.
Energy companies surged to second spot attracting $549 million across seven transactions led by the GIC - Greenko Group ($256 million), I Squared Capital – Amplus Energy ($150 million) and Macquarie – Ind-Bharath Energy transactions.
PE Investments by Industry – Q3'15 (by Value)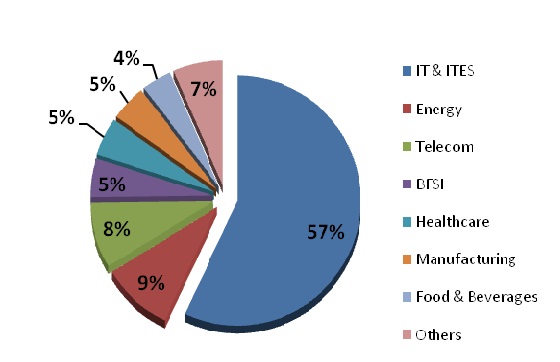 Buyouts Stage Comeback Growth Capital investments in unlisted companies accounted for 68% of the PE investment pie during Q3'15 (including Venture Capital type investments which accounted for 10% of the pie by value). Buyout type investments saw a spurt in interest and, at 11 investments worth $1,496 million, accounted for as much of 26% of the pie (in value terms). The ACT, Intelenet and Greenko deals were followed by the Fairfax Group's buyout of a 74% stake in agri-logistics firm National Collateral Management Services for INR 800 crore ($126 million) and ChrysCapital's $63 million buyout of US-based IT Services firm Infogain.
Despite the Bain Capital – L&T Finance deal, PE investments in listed companies (PIPEs) – at 8 investments worth $341 million - accounted for just 6% of the investment pie (by value) during Q3'15. Another notable transaction in the segment was KKR Special Situations Fund investing INR 491 Cr ($77 million) in polyester yarn maker JBF Industries. StanChart PE, Apax Partners and Temasek acquired additional shares in existing listed portfolio companies of Prime Focus, Shriram City Union Finance and Justdial respectively via the public markets.
About Venture Intelligence
Venture Intelligence, a division of TSJ Media Pvt. Ltd., is the leading source of information on private company financials, transactions and their valuations in India. For more information, please visit http://www.ventureintelligence.com